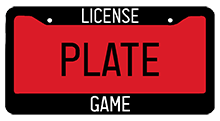 License Plate Generator
Test out your plate ideas here. For example, typing in the words "example plate" would convert the plate to XMPLPL8.
Keep in mind most states only allow 6 to 7 letters or numbers with no special characters.
We at License Plate Game DO NOT condone drunk, impaired, or distracted driving. Please don't use your phone while driving.
License Plate Game © 2023
Contact us at: [email protected]
Please check out our other websites:
Magen Emberton Photography - Woodturning by M.E. - MagenEmberton.com